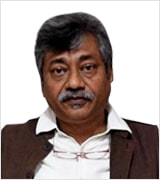 Professor & HOD Psychiatry, M. L. Dhawale Homeopathic P. G. Institute, INDIA.
Director (Community Health Service) Dr. M. L. Dhawale organization. Mumbai.
Executive Director Malini kishor Sanghvi Hospital & Educational Complex, Gujarat.
PG guide for students of psychiatry, Maharashtra University of Health Science (MUHS)
Workshop & Seminars :
Presenting seminars and interactive workshops on Concept of Case Receiving & Role of Unprejudiced Observer with help of audio visual aids. So far presented about 15 such workshops across India & one abroad at Denmark.
Conducted 15 days workshop of ROT (Re orientation of Teachers) as a coordinator in the subject of Homeopathic Matria Medica, Philosophy and Repertory organized by AUSH Government of India.
Conducted workshop with Teachers of Gujarat, Homeopathic Colleges organized by Government of Gujarat.
At Denmark in the month of March, 2005.Presented paper at international conference at Toronto Canada, Oct. 2005. Conducted workshop at Canada homeopathic college, Toronto and Troy, Michigan USA Addressed USA & Canadian community on 'Homeopathy as first choice'.
Recent presentation on kent's approach to case receiving at Toronto Canada 2009, Competency based education in psychiatry at LIGA, Leipzig, Germany, June 2017.
Award:
Recipient of Best Homeopathic Doctors Award (yr. 2005-2006) For service to society from 'YOU' (an organization devoted social cause)
Research experience:
Principal investigator in Diarrhea Research Project,Sponsored byDept. AYUSH, Ministry of Health & Family welfare, Govt.of India.
Course Series
(3 Sessions)
Recording Available
---
Course Series
(10 Sessions)
Recording Available
---