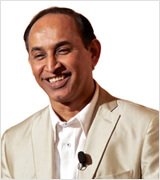 A senior homoeopath, an academician and a famed international teacher, is known for his contribution to homoeopathy. He is famous for his innovative ideas and he is a well-known prolific writer on homeopathy.
Dr. Ajit Kulkarni is a Gold medalist. He is an M.D. (post-graduate in homeopathy) from a leading university in India.
Seminars and workshops:
Dr. Ajit Kulkarni has given seminars and workshops in different countries viz. Israel, Russia, Bulgaria, Britain, Singapore, Sri Lanka, Switzerland, Latvia, etc.
He has spoken on more than 100 subjects in the seminars and his books have been translated in many languages.
Literary work:
His 20 books in Russian language are very famous and they represent the classical homoeopathic approach blended with numerous creative ideas as taught by Dr. Ajit Kulkarni.