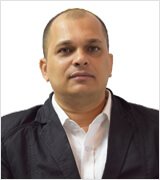 Dr. Shailendra R. Vaishampayan
Dr. Shailendra is a practicing Homeopath with professional experience of over 21 years, having expertise in treating various cases like thyroid, cancer or immune compromised epilepsy, endocrine disorders, pediatric, geriatric gynecological disorder, addictions and psychiatric disorders.
Practicing Homoeopathic Doctor with profession experience of over 23 years.

Professor (PG) at D. Y Patil Homoeopathic Medical College (Pune). Experience of over 21 years in teaching UG and PG
Founder Member of 'Folk Homoeopathy' an organization dedicated to professional enrichment of Homoeopathic General Practitioners helping them to improve their clinical acumen with spot on prescriptions.
Author of 'Kinder Garten Materia Medica' a reference book for beginners widely used by homoeopathic students in India.
ACADEMIC CONTRIBUTIONS:
Joined Homoeopathic College as a junior lecturer in the subject of homoeopathic materia medica on 1st feb 2001.
Approved lecturer by Maharashtra University of health sciences from july 2004.
Worked till 20th June 2015 as an Assistant Professor in the Department of Homoeopathic Materia Medica.
Worked as a guide and mentor for PG courses at The Other Song academy of homoeopathy a prestigious academy by Dr. Sankaran .
Seminars and Workshop:
Dr. Shailendra has conducted over 25 seminars and workshops including 3 international seminars. He has presented a research paper on 'Homeopathic approach to female hypothyroid cases ' at the OMICS Conference Of Alternative Medicine International Seminar, Hyderabad.
He has given a presentation on psychiatric cases at Asian Homeopathic league, and a presentation in the University of Cyberjaya, Malaysia.
He was a keynote speaker at California Homeopathic Medical Association's annual conference held in the month of May, 2017 where he spoke on Homeopathic Management of Thyroid Disorders.
Accomplishments
Writer of a reference book called Kinder Garten Materia Medica a unique combination of pictorial and pneumonic.
Presented a paper of 'homoeopathic approach in female hypothyroid cases at 'Omics international conference of Alternative Medicine' in Hydrabad presented more than 100 documented cases.
Speaker at the 'Indian Homoeopathic League Seminar 2015' on psychiatric disorders. Presented NOS depression.
Worked as a paper setter, moderator and examiner for theory and practical examination at UG level.
Literary Work:
He is an author of 'Kindergarten Materia Medica' a reference book for beginners widely used by homeopathic students.
Social Service
Dr. Shailendra has a charitable homoeopathic OPD at Ovla village, near Thane, India since past four years with more than 1500 successfully treated patients.
Webinars
Recording Available
---
Webinars
Recording Available
---
Webinars
Recording Available
---
Course Series
(108 Sessions)
Recording Available
---
Course Series
(5 Sessions)
Recording Available
---
Course Series
(12 Sessions)
Recording Available
---