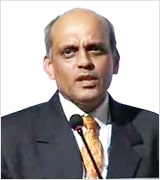 MD (Hom)
Practicing homeopathy more than 23 years specializing in treating various skin conditions like Vitiligo, Eczema, Urticaria etc.
Academic achievements:
PG Guide at Maharashtra University of Health Sciences (MUHS), Nashik, since 9 years.
Prof. & HOD Repertory - Dr. M. L. Dhawale Memorial Homoeopathic Institute.
Appointed and served as a guide for Hospital management course of Symbiosis International Institute of Management and Annamalai University for MBA
Literary work:
Author and Co-ordinator of writing of "Certificate Course in Homeopathic Hospital Management" by NIH Kolkatta
Research Contributions:
Recognized teaching faculty of Research Methodology by Medical Educational Teaching (MET) of MUHS, Nashik
Principal Investigator, Homoeopathic Research in Vitiligo.
Achievements:
More than 12 Scientific Papers presentations done at National and International level seminars/Conferences
Member of Scientific Committee in Dr. M.L. Dhawale Memorial Homeopathic Institute.
Webinars
Recording Available
---
Webinars
Recording Available
---
Webinars
Recording Available
---