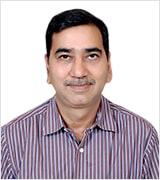 Director, Academics services- MLD Memorial group of organisation.
Principal, Professor, HOD, PG guide, PHD guide Dept. of Materia Medica.
Dr. M.L. Dhawale Memorial Homoeopathic Institute, Palghar and MUHS, NASHIK.
Member research and education committee MLDMHI.
Consultant and in-charge department of Cardio- Pulmonary at centre of excellence Rural homoeopathic Hospital-Palghar.
Consultant dept of Paediatrics, Surgery and ICU-Rural homoeopathic Hospital Palghar.
Training and Research:
Worked under the Project of 'Homoeopathic Management of Tuberculosis' under the guidance of Dr. C. B. Jain, Hon. Asstt. Director (Clinical Research) at the Dr. M. L. Dhawale Homoeopathic Medico-Surgical Research Centre, Malad (East), and at the Ashwini kumar Medical Relief Society, Kandivali – Three years.
Organised and managed the Anaemia detection and treatment pilot research project for 125 tribal children in the tribal region of MLD Trust.
Clinical Research: To evaluate the efficacy of Homeopathic treatment of chronic obstructive pulmonary disease by correlating subjective evaluation with objective parameters.
Research project in education research: Going Holistic the whole way: A case of reform in Homoeopathic Medical education.
Drug proving: Evolving a conceptual Image of Calcarea fluor through drug proving.