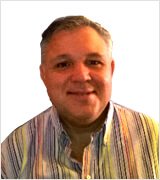 Dr. George Loukas practices homeopathy since 1982 and has introduced the unifying theory of diathesis. He is the author of the Unifying Theory of Constitution which presents a unified theoretical medical model of constitution based on the comparative study of the homeopathic theory of chronic diseases combined with the theory of psychoanalytic fixations, Pavlov's typology, the Hippocratic theory of humours and the four elements of Plato and Embedocles.
He has created the method of "Cognitive Homeopathy" which he has taught to special groups of therapists.
Seminar :
Since 1995 he has given numerous seminars in Russia and Ukraine, attended by hundreds of doctors.
Dr. Loukas has collaborated with People's Friendship University in Moscow in the post educational seminars of the department of Homeopathy.
He has designed hundreds of new homeopathic medicines, many of which have constituted a case study and their characteristics have been recorded.
Literary work:
Study of the psyche of homeopathic medicines, Volume 1 and 2.
Roots – principles for a unification of the human sciences.
Periodic table and homeopathy.
Cognitive Homeopathy: A new system of practicing homeopathy
REPERTORY "ORGANON 2001". A computer software published in English and Greek.
Awards:
The Russian Academy of Natural Sciences awarded to Georgios Loukas the Pavlov prize in November 2000 for the designing and the clinical applications of new homeopathic remedies.
He has also been elected an honorary member of the International Academy of Authors of Scientific Discoveries and Inventions.
Webinars
Recording Available
---
Course Series
(25 Sessions)
Recording Available
---
Course Series
(12 Sessions)
Recording Available
---