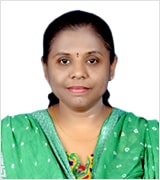 Practitioner at Child Psychiatry OPD since 2003 at MLDMHI
Academics:
MUHS approved P.G. teacher and Guide
Faculty , Reader in Department of Psychiatry at MLDMHI
Faculty in Geriatric Care giver course at MLDMHI
Coordinator – Psychology CME sponsored by AYUSH
Seminar and Workshop:
She is regularly invited as a speaker in various seminars held on different psychiatric conditions such as Anxiety Disorders, Depressive Disorders, Children related issues and addictions.
Presented several cases of Acute and Chronic dimensions at ICR symposia at Mumbai, Pune, Vadodara
Invited speaker Sarla Sonawala Memorial Seminar held at Mumbai on Anxiety Disoders , Depressive Disorders , Children related issues
She has conducted many Community Activities in School Mental Health programmers from 2007-2016, De-addiction programme and alcohol awareness programmes, Adolescent's issues and many more.
She has also conducted Stress- Management Sessions for various corporate Industries.
She is on the Editorial Board of National Journal of Homoeopathy.
Community Activities:
Worked in various departmental projects like School Mental Health from 2007-2016
Working on De-addiction programme since 2009 till date
Conducted many camps on Alcohol Awareness programme
Mental Health in School going children
Worked on Adolescent's issues in S.M.Dandekar college, Palghar
Worked in Gender related issues in schools, Ashram schools around Palghar- Boisar
Conducted session from Trainers in National Social Service at Dahanu
Webinars
Recording Available
---
Webinars
Recording Available
---
Course Series
(25 Sessions)
Recording Available
---
Course Series
(10 Sessions)
Recording Available
---