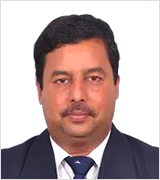 Dr Samir Chaukkar is Dean, Dr Batra's® Academy and has vast academic and practical experience with various colleges and universities in India and abroad. He has conducted numerous seminars on homeopathy in Australia, New Zealand, Canada, USA, Malaysia, Belgium, London, Turkey and other countries.
He graduated in 1992 from Smt. C.M.P. Homeopathic Medical College under the aegis of Mumbai University and completed his post-graduation in 2005. He has completed Post-Graduation Diploma in Addiction Treatment from Canada. In addition, he has successfully completed HMD and PG (Hom) from London and fellowship from MUHS. He has been teaching and practicing homeopathy in India, and has been associated with Dr Batra's® for the past 10 years. He has also handled the post of Head Training and served as Chief Homeopathic Consultant with Dr Batra's® homeopathy.
Dr Samir endeavours to spread the benefits of homeopathic education through Dr Batra's® academy.
Webinars
Recording Available
---
Webinars
Recording Available
---
Course Series
(25 Sessions)
Recording Available
---