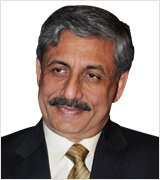 Director General of Central Council for Research in Homoeopathy, Ministry of Health & Family Welfare, Govt. of India since July 3, 2012.
30 years of professional experience; including 7 years & 10 months as Deputy Director (Homoeopathy), Health & Family Welfare Department of Government of Delhi, as the Head of Homoeopathic wing of the Directorate of ISM & Homoeopathy.
Organizing Secretary of 66th World Homoeopathic Congress of Liga Medicorum Homoeopathica Internationalis (LMHI) held in New Delhi, India from 1st – 4th December 2011.
Authored several research papers in peer reviewed international journals and a book in English and Spanish.
Presented 32 research papers in International and National Conferences and periodicals.
Achievements/awards
"State Award" in 2010 by the Government of Delhi for the meritorious works undertaken in the field of Homoeopathy.
"Award of Recognition" by Robert Bosch Foundation, Germany in 2011.
International Training
Group Training Course in HIV/AIDS Control Plan (virological diagnosis of HIV infection)at Research Institute of Microbial diseases, Osaka International Center, organized by Japan International Cooperation Agency (JICA), Japan.
Webinars
Recording Available
---
Webinars
Recording Available
---