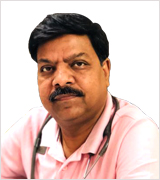 Practicing homeopathy since 23 years and has successfully treated patients with homeopathy medicines only.
Having 14 years of teaching experience.
Many seminars done at regional, national and international level.
AWARDS
Awarded by Delhi Homoeopathic Medical Association (Regd.) in recognition of valuable lecture on "Prescribing Method of L.M. Potency" on 29th December 2013.
Dr. D. P. Rastogi Award 2014 was conferred by the Board Of Homoeopathic System Of Medicine Delhi in recognition of meritorious services rendered for the cause of Homoeopathy on 27th April,2014 New Delhi.
ACADEMIC ACHIEVEMENTS
Homoeopathic Gem Award 2012 was conferred in recognition of meritorious services rendered for the cause of Homoeopathy.
Homoeopath Par Excellence Award 2013 was conferred in recognition of meritorious services rendered for the cause of Homoeopathy.
Hahnemann College Of Homoeopathy United Kingdom - Appointed as Mentor and P.G. Guide to give complete guidance and training for the Post Graduate Certificate course in Homoeopathy P.G. (Hom), London for the years 2013-2015.
Conducted multiple workshops in various colleges, institutions and universities at under graduate and post graduate level
Webinars
Recording Available
---
Webinars
Recording Available
---