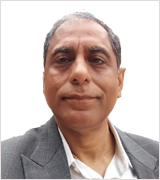 Dr. Munish Sabharwal PhD (Healing of Major Diseases using Integration of Homeopathy, Psychoneurobics and Naturopathy) has published 8 papers in Medical Journals. He is a Life member of Earth Saviour Foundation (whose founder Ravi Kalra, also known as Mother Teresa of Delhi and was on KBC recently). He actively supports this organisation which has 450 destitures and homeless. He goes there on a weekly basis along with a team of Homeopaths to administer them medicine through classical symptom basis diagnosis.
To help them further he has professionally trained himself in Homeopathy Dispensing, is a Gold Medallist in Psycho Neurobics and has studied Natutopathy. His passion to help, had him pursue a PhD in, "Healing Major Diseases through an integration of Homeopathy, Naturopathy and Psycho Neurobics" from university in Florida,USA. Apart from mentoring entrepreneurs, he regularly educates them on how to neutralise stress through Psycho Neurobics and lead a life without Medicines working towards a life target of 100 years using Nature's own science.
He has to his credit 8 Published Research Papers in International and Domestic Journals each covering different functional area of the body viz Cardio, Gastro, Nephro, Neuro, ENT, Dermatology etc. He has also been recognized as an Ambassador of SIGFA for his knowledge and contribution to Psycho Neurobics. He was also presenter on the National 27 th Kent Memorial Homeopathy Lecture organised by Ayush, Govt of India.
He has been on CNBC, Tata Sons Mumbai & IIM Udaipur in this pursuit as a presenter on Health. He attributes his interest in healing to his 3 Gurus in Homeopathy, Psycho Neurobics and Naturopathy.
Webinars
Recording Available
---