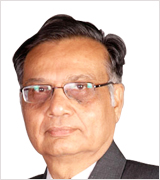 Consultant obstetrician and gynecologist, and Hon. Professor at Grant Medical College, Mumbai.
He has spent a major part of his career imparting knowledge both in India and abroad.
National Professor and visiting scientist to Haffkine Institute of Research & Testing, Parel, Mumbai
The founder chairman of Dr. Palep's Medical Research Foundation Pvt. Ltd. and Dr. Palep's Medical Education & Research Trust, Mumbai.
The only recognized teacher at the Mumbai University in both Modern Medicine and Ayurveda Faculties.
He has also been instrumental in starting the first integrative medicine department at KJ Somaiya Medical College, Hospital and Research Centre in Mumbai.
His zeal and vision led him to translate the language of Ayurveda into a modern scientific context, thus authoring a book titled, "Scientific Foundation of Ayurveda".
Course Series
(32 Sessions)
Recording Available
---
Course Series
(11 Sessions)
Recording Available
---