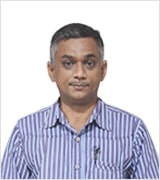 Full time Reader in Department of Materia Medica, Dr. M. L. Dhawale Memorial Homoeopathic Institute since 12 years.
Works in the Department of Pulmonology at the Rural Homoeopathic Hospital, Palghar
CME Programmes: Attended the various Re-orientation and Training programmes conducted by the department of AYUSH in the subject of materia medica and research methodology with active contribution.
Contributed various cured cases in symposia conducted by the ICR
Research Experience:
Successfully completed my dissertation "Proving of a coded drug in order to evolve a Drug picture"
Completed successfully the Membership (MICR) examination conducted by ICR in the year 2013 after due submission of assignment.
Seminars and Workshops:
Anxiety and its differential materia medica presented at Sarla Sonawala Workshop and at London School of Homeopathy.
Webinars
Recording Available
---
Course Series
(25 Sessions)
Recording Available
---
Course Series
(10 Sessions)
Recording Available
---