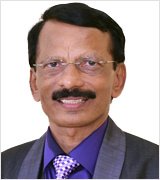 Dr. Belavady Thippeswamy Rudresh, a classical practitioner of homoeopathy has completed 3 decades of committed service to the multitude who have thronged to him for an effective cure.
Literary work:
He has authored the following books – 'Novu neeguva kaayakadalli kanda badulu belaku' which is in its 6th reprint and won the Shankara Pratishthana Award, Healing Touch', 'Vaidyana Hattu Mukhagalu', 'Belli belaku, suvarna baduku' in its third edition, 'Badavara baadami' which is published by Kannda Book Authority, Government of Karnataka. A book on his life was published under the title – Hahnemann, Homoeopathy and Dr. B. T. Rudresh.
Clinical Practice:
He has treated an average of 150 patients per day, crossing the grand total beyond 15 lakh patients till now. His legion of patients, especially the childless couple have blessed him with many awards of blessings.
Presentations:
He has presented documentaries like 'Hahnemann and Homeopathy, Doordashan Karnataka and National Channel', 'Milestones in Human-Care over Doordashan Kendra, Karnataka', 'The Genius of Hahnemann' - A Kannada adaptation on Doordashan Kendra, Karnataka, 'Homeopathy & Hahnemann - English Documentary for National Channel', 'Infertility and Homeopathy - English Documentary on DD Bharthi an international channel of Doordashan'.
Webinars
Recording Available
---
Webinars
Recording Available
---
Webinars
Recording Available
---
Course Series
(108 Sessions)
Recording Available
---
Course Series
(12 Sessions)
Recording Available
---