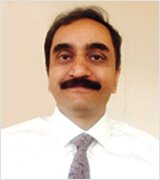 Dr. Abhay Talwalkar, M.D. in Homeopathy is a renowned homeopathic physician practicing since 1993. He, along with his wife has successfully treated many cases of women with health issues.
Dr. Abhay Talwalkar is the Director of Homoeopathic Healing Center, a homeopathic hospital specializes in women's diseases.
Apart from offering homoeopathic cure for various types of acute and chronic diseases the center specializes in the treatment of women in all stages of Pregnancy and labor with Homoeopathic Medicines.
He has a vast experience in treatment of cases during child birth, and managing labor pains with homoeopathic remedies.
Dr. Abhay Talwalkar has also been involved in drug proving along with other colleagues and given lectures, and presented cases at national and international level.
He has also been involved in the organization of seminars and workshops for Indian students and international participants.
Dr. Abhay is an active member of Hompath creating homoeopathic software for the followers of homeopathy.
Webinars
Recording Available
---
Webinars
Recording Available
---