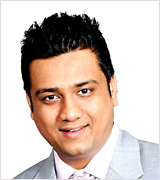 Punit Desai, an entrepreneur, and co-founder of Welcome Cure™ the world's largest online Homoeopathic treatment portal, will be speaking about practical tips or solutions you need to know to make your practice thrive online.
He will also be speaking about cost effective solutions to set up a dedicated Online Clinic with the help of Doc Solution program and team of professional.
He will share real life examples of homeopathic doctors who have successfully and with very simple steps developed their online clinic and grown their patient base beyond their locality, city, state and country.
He will shed some light on the Entrepreneurial skills one requires to build to expand their paradigms, why it is important to have a global base, and much more.
Course Series
(9 Sessions)
Recording Available
---