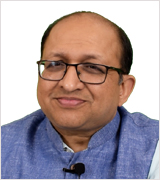 Dr. Tushar Shah is a man of many roles. He is a M.D. Physician, humourist, poet, quizmaster, teacher and a mentor for many.
His principal occupation is medicine. He earned his MD in General Medicine in the year 1990 having graduated from Nair Hospital in Mumbai. He currently practices as a consulting physician at Criticare Hospital and Advanced Super Specialty Hospital in Juhu Scheme, Mumbai. His colleagues know him as a consulting physician and a passionate teacher of medicine. He is also a keen trivia buff and has conducted medical and non-medical quizzes across multiple platforms.
He has taught more than 10,000 doctors through various programmes such as Senectus, Armamentariu, Harfanmaula, SOS through various platforms like PiE, G. P. Associations on a variety of subjects ranging from antibiotics abuse to geriatrics.
He dedicates most of his time to empowering the General Practitioner to be more able in their OPD practice as he firmly believes in training 100 doctors who will each see 100 patients is a better outcome than he, himself consulting 1000 patients.
Webinars
Recording Available
---