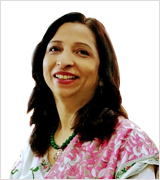 Dr. Sujata Naik, a clinically trained Homoeopath, has done her graduation from CMP Homoeopathy Medical College, Mumbai and Post-graduation, M.D. in Homoeopathic Repertory, from Mumbai University.
She has been practicing extensively in Mumbai for more than 3 decades across 3 centers with thousands of patients from India and Abroad.
She is also running a charitable OPD in Konkan region of Rural Maharashtra at BKL Walawalkar Hospital, for the past 9 years with great success. Have successfully made inroads at grass root level where Homoeopathy has been previously unheard of.
---
Awards:
The best oral presentation award for her research study on "Homoeopathic treatment of resistant oral candidiasis in patients with cancer" was at the 4th International Conference on Integrative Oncology held at Kochi, Kerala in February 2020.
Dr. Sujata Naik was awarded 1St Place for her Research Poster Presentation on PCOS and its homeopathic management at the 1st International Conference on Alternative Medicine held by AYUSH (The Department of Ayurveda, Yoga and Naturopathy, Unani, Siddha and Homoeopathy) in November 2017 at Dubai.
---
Presentations and Research:
Her talk on work regarding "Homoeopathic treatment of chronic bronchial asthma in community setup" at LMHI 2019, Sorrento, Italy was highly revered.
The retrospective study on 'Resistant Tinea' carried out at the Rural Hospital was presented by Dr. SujataNaik at the LMHI 2018, Capetown and Faculty of Homoeopathy Congress 2018, Liverpool conferences and has been widely appreciated.
As the first international affiliate member of the Faculty of Homeopathy, UK, Dr. Naik has been invited to hold clinical sessions for General practitioners and Homeopaths on various topics including Homeopathy for Cervical Spondylosis and Psoriasis.
---
Publications:
Her book "WELLNESS SHOTS" a compilation of Health and Wellness tips posted on social media has been listed by Notion Press in the Bestseller category.
Her latest book "WELLNESS CAPSULES" has started gathering rave reviews.