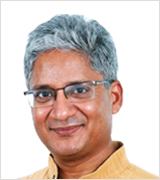 Rajan Sankaran, MD (Hom), is an internationally renowned thinker, teacher, and writer of the homeopathic system of medicine. He is reputed to be a clear and original thinker and is best known for his path-breaking concepts in homeopathy.
His understanding of disease as a delusion followed by his discovery of newer miasms, classification of diseased states into kingdoms (viz. plant, mineral, and animal), and the seven levels of experience, brought in much more clarity into understanding diseased states.
This paved way to one of the most path-breaking concepts of eliciting the vital sensation in the patient, popular as the 'Sensation method'
The Sensation method has now evolved into a more comprehensive and synergistic approach, which strongly advocates to encompass and integrate the old, classical, and traditional approaches with the latest advances.
This approach –'The Synergy of Homoeopathy', has resulted in far greater predictability of results than ever before.
Dr. Sankaran heads 'the other song—International Academy of Advanced Homoeopathy', in Mumbai. This academy primarily focuses on imparting advanced clinical training to students and practitioners, integrated with a homeopathic healing centre.
Course Series
(5 Sessions)
Recording Available
---
Course Series
(11 Sessions)
Recording Available
---