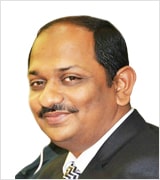 MD(Hom)
Dr.A.Kannan runs a chain of clinics in different cities of Kerala, Karnataka, Gulf & Australia.
Trustee, Global Homoeopathy Foundation (An body for research, support and development of Homeopathy)
Founder Director & Senior consultant at AIHMS (Aditya Insitute of Homoeopathic Medical Sciences) www.aihms.com . It is the largest chain of multi speciality homeopathic clinics in Kerala. With branches in Trivandrum, Tiruvalla, Ernakulam, Thrissur, Perinthalmanna, Kozhikode, Kannur.
Visiting consultant at Homoeopathic Care.
Academics & Literary works:
PG Guide for PG(Hom) at Hahnemann college, London
Head, R&D, Repertory, at Hompath Software
Contributed in the making of CARA software
Contributed & edited the book "Essentials of Repertorisation"
Visiting faculty at various postgraduate homeopathic colleges in India
Visiting faculty for Hahnemann Academy, Colombo, Srilanka
Presented papers at many international conference.
Has published numerous articles in National & international journals.
Social Organisations:
Lions Club International:
Has been in the positions of Secretary of the club, President of the club, DC, JDCS, ZC &RC , DC Information & Technology, Now District Cabinet Secretary (Projects)
Attended Faculty Development Institute (FDI)
Attended Advanced Lions Leadership Institute (ALLI)
Attended the Regional Level Leadership Institute (RLLI)
Attended many Isaame forums.
Attended all the international conventions after joining Lions Clubs, (at Australia, South Korea, Germany, Canada, Seattle, Hawaii, Tokyo, Chicago & Las Vegas)