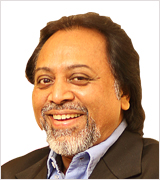 Dr. Jayesh V. Sanghvi M.D. (Hom) is internationally acclaimed and a celebrity homeopath of the country with a global practice spanning nearly four decades, Dr. Jayesh V. Sanghvi MD(Hom) is a third generation homoeopathy physician hailing from a legacy of royal physician's from Gujarat. Based in Chennai (India), he happens to be the Chairman of Dr Sanghvi's NATURE CLINIC – a Super Speciality Centre for Homoeopathy (and Alternative Therapy), an ISO 9001-2008 accredited and acclaimed one of the best in ambience, globally.
Dr Sanghvi's patients fondly address him by pseudonyms such as - The miracle man, The magic man, The celebrity Homeopath.
An astute clinician, Dr Sanghvi is widely recognised for his treatment of chronic, incurable and undiagnosed diseases often given up by some of the best medical fraternity world. He happens to be one amongst the few homeopathic physicians in the country, specially known for the treatment of Cancer, apart from Infertility, Incurable Eye Diseases, Renal Failure, and Critical Death Bed Emergencies.
Tele–consultation is his forte since 37'yrs, where patient clientele worldwide, open with challenging conditions or at death bed, have been treated. He happens to be one of the very few homeopaths who is flown in with in India and abroad, exclusively to see patients.
His Pioneering clinical research and work - Memory Enhancement Therapy that successfully improves the academic performance of students and - Stress Buster Treatment for Corporate Wellness are one of the first of their kind in any stream of medicine in the world. A most unique concept Dr Sanghvi has clinically discovered is that homeopathy is capable of bequeathing a critically ill patient, to not only attain a peaceful, but also a spiritual-death..!
Webinars
Recording Available
---
Webinars
Recording Available
---
Webinars
Recording Available
---