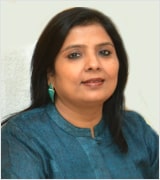 MD (Hom)
MICR [Member - Institute of Clinical Research]
H.O.D- Department of Pediatrics at Smt Malini Kishore Sanghvi Hospital and Educational complex, Miyagam Karajan, Gujarat, India
Head- Community Health Services at Smt. M KSHMC. Taking Care of all the Community outreach programs like Peripheral OPDs. Rural camps, School Health checkups, Awareness activities on adolescence , Menstrual Hygiene etc.
Executive Trustee of Homoeopathic Education and Charitable Trust
TEACHING EXPERIENCES:
Professor in the subject of Homoeopathic Repertory in Smt Malini Kishore Sanghvi Homoeopathic Medical College & Hospital , Miyagam-Karajan, Dist- Vadodara, Gujarat.
Approved Professor of Homoeopathic Repertory
Appointed and served as P.G Guide for the subject of Repertory from MUHS, Nashik, Maharashtra.
Awards:
Awarded Dr. N.D Sindhi Memorial National Award 2016 at from Homeofreinds Gorakhpur, for rendering Noble and committed services to the needy and poor patients through Homoeopathy
PUBLICATIONS:
1. Scientific articles in NJH.
2. Published a book -"Homoeopathy Made Easy" on International Mother tongue Day at Vadodara; where she was co-editor. In this book, she has
Translated all the Aphorisms of Organon of Medicine in Gujarati
Translated almost all the rubrics of our Repertory in Gujarati
Complied Sources of Medicine from Homoeopathic Pharmacopeia of India
Made Comprehensive list of Homoeopathic Medicines with its transliteration
SEMINARS & PRESENTATIONS
Cases on Acute and Chronic dimensions at ICR symposia & Workshops at Mumbai & Baroda.
Cases on Global Developmental Delay & Cerebral Palsy at Bombay Symposium.
Presented papers in the seminar at Mehsana on Acute Prescribing.
Speaker in 17th Sarla Sonawala Memorial Seminar held at Mumbai on "Approach to the Pediatric Case" on 21st-22nd January,2012.
Presented paper at International Homoeopathic Conference, Organised by Asian Homoeopathic League (Indian Chapter) Mumbai, Maharashtra, India on 10th October, 2015 on Developing and formatting strategies to treat Children with Developmental disorder and Mental Retardation with Cerebral Palsy in Rural set-up
Webinars
Recording Available
---
Webinars
Recording Available
---
Course Series
(108 Sessions)
Recording Available
---
Course Series
(2 Sessions)
Recording Available
---
Course Series
(30 Sessions)
Recording Available
---