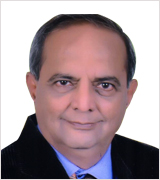 Dr. Atul K. Shah is M.D In Allopathy & Radiologist
Dr. Atul K Shah is Chairman of Aum Himalaya Sanjeevini Essences Pvt. Ltd.
Medical Doctor for 47 years, with wide experience in treatment & diagnostic methods in Allopathy as well as Alternative & Complementary Therapies.
Due to his allopathic background, he as an advantage and privilege if treating various king of patient with variety of diagnosis & so called incurable diseases.
Invited frequently along with his wife to deliver guest lectures at various national & International conference & Seminars on Alternative and complementary therapies.
Opened Health Center called as "Healin Temple" in heart of Mumbai City.
Been Interviewed on various shows such as Kiran Kher Show, Amul India Show, Better World T.V show in New York.
Also been featured in the popular TV program called Mano Ya Na Mano.
Course Series
(108 Sessions)
Recording Available
---