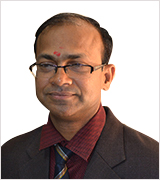 Dr. Amiya Nanda Dev Goswami, BHMS,MD (HOM.), PhD (Homoeopathy)
Former Member- Central Council of Homoeopathy(Govt. of India)
Dean- Faculty of Homoeopathy J.R.N. Raj.Vidyapeeth University.
Former Member of RegulationCommittee, Finance Committee,Excellency in Education Committee Central Council for Homoeopathy ,Govt.of India.
Acted as Chairman in the selection committee of SRF from CCRH, Govt. of India, Ministry of Health (AYUSH) at Andaman And Nicobar in 2015.
Paper Presentation In Various NATIONAL And International Seminar (Scientific Session)
12 National Homoeopathic Conference 2004. Dehradun.
Rajasthan State Homoeopathic Board Scientific seminar 2008, Jaipur.
National Homoeopathic Seminar, Agra 2009.
First National Homoeopathic Conference (HMSAI) at Noida-2010.
National Homoeopathic Conference 2012 Kanyakumari.
International Homoeopathic Conference ,Agra 2003.(Research Society of India)
World Homoeopathic Congress , Delhi 2011.(LMHI)
Indo-Japan Homoeopathic Conference, New Delhi 2013
London Seminar 2013 (Case taking & Pediatric observation)UK
Asian Homoeopathic Medical League 2016, Moscow, Russia.
AWARD
Achieved Rajasthan State Level Award from Homoeopathic medical Association of India, Rajasthan State Ajmer Branch in 2011.
Achieved Significant Contribution Award From AIIMS in International Multidisciplinary Conference, Jan 09 to 14, 2014 at New Delhi.
Appreciation Award from Hahnemann College of Homeopathy, UK, London in 2013
Academic excellence award 2015 from Hindusthan Times and group.