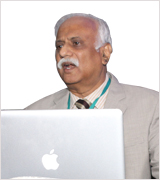 Mr. Anal M. Pandit, (66 years) gave up his career in Software consultancy, as an ERP, e-governance consultant to pursue his passion of Graphology, his hobby of more than 46 years.
He has done extensive research in Graphology and provided guidance in this field to several people from diverse backgrounds for many years.
Around Fourteen years ago, he founded the Institute to undertake serious research work, into various facets of Graphology. Simultaneously, he continued to provide the right environment conducive to budding graphologists.
Presently, he has nurtured a team of committed and dedicated 20 Graphologists and a group of over 100 ex-students who participate in the research work.
He has conducted many seminars on Graphology in Corporate, Clubs, Colleges & Managements Institutes.
The institute is recognised by the Maharashtra Police Department as only official Institute to teach Graphology to the staff.
His students comprise of children and adults of all ages, from the age of 6 to 82 years old. The list includes people from impressive and varied backgrounds such as School and college students to CEOs, Medical Practitioners & Consultants to Advocates and Solicitors including partners of International Legal Firms, Commercial Pilot to HR Executives , Medical Counsellors to College & School Teachers and businessmen, Gazetted Officers, Architects, Software Professionals to Chartered Accountants, Financial Planners, Insurance Consultants, Bank Officers, Police officers from Maharashtra & Goa and many more. Mr. J. Rajagopal, ex-CEO & MD of KPMG is also an alumni of the Institute. Partners of Little & Company as well as Crawford Bayley & Co. Senior Law Professor Mrs. Vijayalaxmi Aney, India's first Genetic Scientist and Professor of Pathology Dr. Hemlata Purandare to name few.
His approach is holistic and the subject is taught more as a personality development tool for self improvement. Past participants feel that, they tend to acquire not only the ability to do excellent analysis by undergoing the course but the course has made a tremendous positive impact on their personal life to succeed in their chosen fields.
His style of teaching gets the participants totally engrossed to such a great extent that everyone just enjoys 8 to 9 hours long sessions.
His contribution in this field is widely acclaimed and covered by the news papers and the electronic media.
Course Series
(108 Sessions)
Recording Available
---