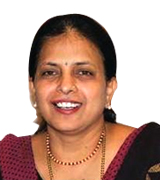 Prof Tanuja Manoj Nesari, MD (Ayu) Ph.D. Director, All India Institute of Ayurveda
Director, All India Institute of Ayurveda, Ministry of AYUSH, New Delhi
Chairperson, Ayurveda for AYUSH Sub-Sector Skill Council under Health Sector Skill Council.
An outstanding academician, enthusiastic practitioner, researcher with great zeal, capable administrator
More than 30 years of teaching experience
Best teacher award and Harihar Mukherjee Memorial Award for remarkable contribution in the field of Ethnopharmacology.
Her pioneering works have led to many important projects including the ones from Scientific Initiative in Ayurveda by Prime Ministers Scientific Advisors, Govt. of India.
She is closely associated with the public health initiative programs of Govt of India.
Webinars
Recording Available
---
Course Series
(32 Sessions)
Recording Available
---
Course Series
(11 Sessions)
Recording Available
---