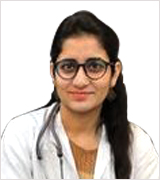 Dr Yashika Arora Malhotra
Dr Yashika Arora Malhotra, MD in homeopathy is a renowned homeopathic physician and is winner of STSH Scholarship by Awarded CCRH in 2015-16

STRENGTHS

Speaker on "One Sided Diseases" in National Homoeopathic Conference, organized on January 7th, 2018.
Paper Presentation at 21st All India Congress by H.M.A.I at Patna on 24th & 25th November, 2018 on the topic, "Utility of Dulcamara in Warts – A Non-Controlled Experimental Study".
Speaker at C.M.E. organized by D.H.M.A., on the topic, "The Magnanimitic Personality of Kali group" on 30th December, 2018 at Delhi Public library.
Speaker at Doctor's meet at Chandrapur, Maharashtra, on the topic, "Day to Day Clinical practice of Homoeopathy", on 16th January, 2019, organized by Adven Biotech Pvt. Ltd.
Course Series
(108 Sessions)
Recording Available
---