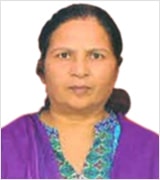 Post Graduate Diploma in Bio-ethics, from IGNOU in collaboration with ICMR and Diploma in Health Promotion from National Institute of Health & Family Welfare
She is working in Central Council for Research in Homoeopathy Headquarters, a premier Institute of research through Homoeopathy, for more than 30 years and is heading the department of Clinical Research.
She had been actively involved in preparation of evidence based protocols prepared in consultation with the scientists of Allied Sciences, Homoeopathic experts and bio-statisticians.
36 papers published in National and International journals of repute.
She has also presented papers in various National and International seminars in India and abroad, on subjects like Research Methodology, activities of CCRH, role of Homoeopathy in various disease conditions and outcome of various clinical research studies conducted by the Council