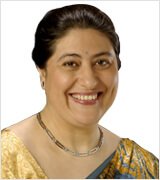 A stalwart among contemporaries in the Homeopathic world, she is admired not only by her students but also by her fellow practitioners. She is multi-talented and dons the various roles of a doctor, mentor, educator, counsellor, author, ace orator, communicator, writer with superlative presentation skills and researcher with equal panache and has done Homeopathy proud.As a result of her extensive research on Temperament, she has now gone on to create a software, "TEMPRAZ-The expert System" which has been incorporated in HOMPATH. In taking upon herself the task of covering and organising an enormous source of knowledge, she has singled out thousands of rubrics and classified them as Tempraz words which go far beyond a standard word search and they represent various facets of human nature seen in wide section of patients over her 24 years of practice. Her book "Temperament Types – A Study" is extremely well received and is in its 2nd edition.
Awards:
Her long list of contributions has resulted in many awards and medals, which jostle for space in her generous showcase. Her efforts have been recognized in the form of the Dr. S.R. Wadia Proficiency Medal in the field of Homeopathy.She has made waves even outside Homeopathic circles.
The Rotary Club of Mumbai honoured her with the Vocational Excellence and Utility service Award 2008-09.
The Best Teacher award 2001 was bestowed upon her by Rotary Club, Sion.
The Media too have pursued her and her interviews have been aired by Doordarshan as well as by Radio BBC (Urdu Service), London.
She was also a panel doctor on the famous Samsung "Hello Doctor" series.
Interviewed by Vividhbharti Vadodra on the merits of Homeopathy.
One of the few homeopaths to be invited to lecture at a WHO sponsored seminar, her paper on Diabetes and its Homeopathic Treatment was very well received.
Recently, she received an Award for Excellence in Homoeopathy at Reminiscence-2011, Alumni-Meet of Ex. M.D. (Hom) Students in Beed.
Webinars
Recording Available
---
Webinars
Recording Available
---
Webinars
Recording Available
---
Course Series
(51 Sessions)
Recording Available
---
Course Series
(2 Sessions)
Recording Available
---
Course Series
(12 Sessions)
Recording Available
---