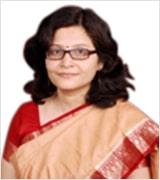 Research Officer (Scientist-2) in DDPR Central Research Institute (Homoeopathy), Noida under Central Council for Research in Homoeopathy
Post-Graduate Diploma in Disaster Preparedness and Rehabilitation from Guru Gobind Singh Indraprastha University
Awards:
Flame of Medical Science Award by World Science Congress in 2015
2nd Prize in AAPI International Research Competition on the eve of Xth Global Health Care Summit at Udaipur, India Dec.28.2016 in collaboration with AAIMS, R.N.T. Medical College and R.H.U.S. Title-Homoeopathy in Infertility with PCOS.(AYUSH category).
Citizen of Substance by DPS World School 2016, at Greater Noida, India on community connect project on 12.11.16.
Publications:
Published papers in national and international seminars besides publishing papers in journals of repute, also was a resource person in various Programmes of Govt. of India, Govt. of Madhya Pradesh, Govt. of Arunachal Pradesh and various Peer-reviewed journals.