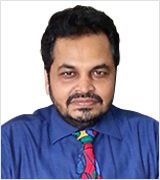 Dr. Nimish Mehta , M.D. in Homeopathy, is a renowned homeopathic physician practicing more than 28 years. He has special skills in treating diseases pertaining to Rheumatology of joints and muscles with Homeopathy.
ACADEMIC CONTRIBUTION :
Dr. Mehta has a rich practical clinical experience as well as teaching experience of over 28 years.
He is currently the Associate t. Professor in the Department of Organon , Homeopathic Philosophy and Psychology at Smt. C.M.P. Homeopathic Medical College, MUMBAI, India.
He has completed prestigious qualification of M.I.C.R with INSTITUTE OF CLINICAL RESEARCH, founded by pioneer-author educationist late DR. M. L. DHAWALE.
He has conducted CLINICAL STUDIES research in the field of Rheumatology and how such diseases can be effectively managed with Homeopathy using the "Fusion Approach" of collaboration with an orthopedist and physiotherapist.
SEMINARS & WORKSHOP :
He has given over 50 Seminars and is reputed to hold the audience in awe of his clinical and medical knowledge.
He has given a presentation on Acute and Emergency Cases in Homeopathy and RHEUMATOLOGY CASES ON CARE TV.
CLINICAL CONTRIBUTION:
He is also attached as a homeopathic physician for the Bones and Joints clinic, at THE OTHER SONG INTERNATIONAL ACADEMY, founded by Dr Rajan Sankaran.
He has to his credit running of RHEUMATOLOGY OPD at Shree Mumbadevi Homeopathic Hospital , in association with an orthopedic surgeon for more than 20 years.
He was the EX-Chief Medical Officer at Dr. M. L. Dhawale Memorial Homeopathic Research Center for organizing personal training, developing base of infrastructure in a new upcoming Homeopathic Hospital.
LITERARY WORK:
He has been a favorite author with his range of great Publications such as:
Rheumatology
Rheumatology II
Case of Psoriatic Arthropathy
Webinars
Recording Available
---
Webinars
Recording Available
---
Course Series
(5 Sessions)
Recording Available
---