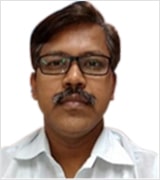 Research Officer (Homoeopathy)/Scientist-2 at Central Council for Research in Homoeopathy, New Delhi
Coordinates fundamental and collaborative research studies.
Actively involved in undertaking studies on epidemic diseases like dengue, Japanese encephalitis and Malaria.
Books & Publications:
Co-authored 20 papers published to his credit in peer reviewed journals and 20 articles in no-reviewed journals.
Has co-authored a book, "An update on Bowel Nosodes", contributed to many publications of CCRH: Homoeopathy-Science of Gentle Healing, Keynotes of Homoeopathic Materia Medica Vol-I & Vol-II.
He has also presented various papers in conferences, workshop and CMEs.
Books & Publications:
Young Scientist award of central Council for Research in Homoeopathy in the year 2017.