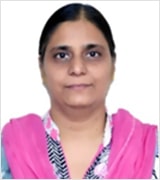 Research Officer (Homoeopathy)/Scientist-2 at Central Council for Research in Homoeopathy, New Delhi
She was instrumental in establishing Homoeopathic Unit at Delhi State Cancer Institute and is presently working for integration of Homoeopathy in Palliative Pain Care Clinic at Homoeopathic Treatment Centre, Safdarjung Hospital.
Research Studies:
Coordinated clinical research studies of CCRH on diabetic foot ulcer, fibroadenoma of breast, side effects of chemotherapy in cancer
Integrated NPCDCS Programme: A programme under public health initiative and scholarship schemes for undergraduate and post graduate students.
Quality Management System in the Council and is NABH AYUSH Assessor.
Publications:
Homoeopathy-Science of Gentle Healing, Monograph on Menopause Activities and achievement of CCRH
Handbook on Homoeopathy: Case Taking to Prescribing Study of Homoeopathic Medicines Through Clinical Verification-A New Perspective- Vol.I & II
Dug monographs on Acalypha indica, Holarrhena antidysenterica, Ocimum canum, and Tylophora indica